GRAND CANYON WEST BY AIRPLANE, HELICOPTER AND FOOT
Your adventure begins with an airplane flight to the Grand Canyon West, taking in amazing views of The Hoover Dam, Lake Mead, and Fortification Hill along the way. Arrive at Grand Canyon West, home of the Hualapai Tribe, for a once-in- a-lifetime excursion aboard a luxurious ECO-Star helicopter. You will then descend and land 3,500 feet below the rim and enjoy the grandeur of the Grand Canyon from an exclusive landing site. Choose between a wide variety of attractions including: Eagle Point, the Native American Village, and Guano Point.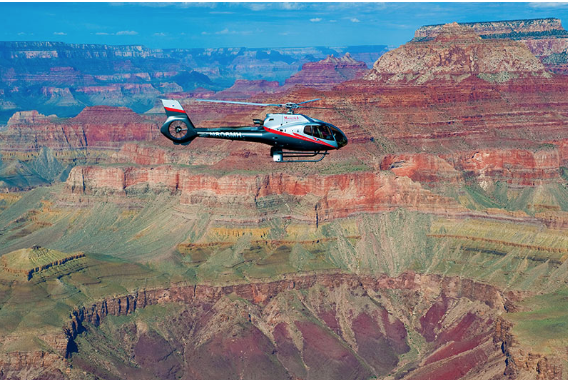 Eagle Point is home to the Skywalk, which suspends more than 4,000 feet above the Grand Canyon and features a glass bottom walking surface. The Skywalk is an optional activity on this adventure and can be purchased upon arrival.
The hop-on, hop-off shuttle allows you to manage your time and experience your own customized expedition. Enjoy Guano Point or Eagle Point during your allocated ground time.
Length: Approximately 7 hours hotel to hotel
LV Official Tour Center Price
$494 per person (includes $75 deposit)
All tours include taxes and fees